About
The Medicine Shoppe® Pharmacy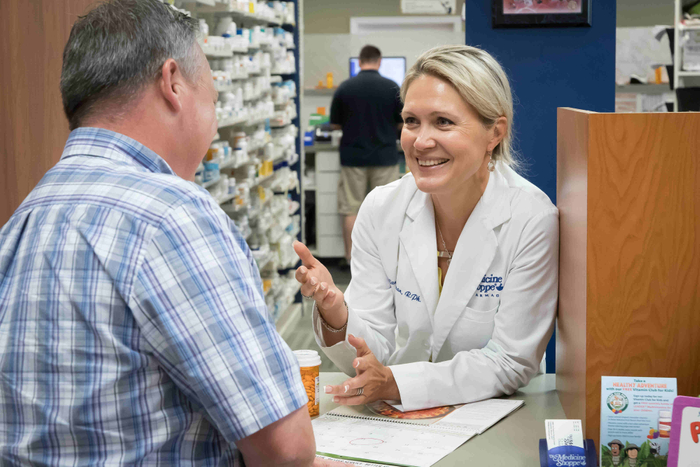 At The Medicine Shoppe® Pharmacy, we're committed to the idea that quality pharmacy care means more than just prompt prescriptions. To us, quality care means that you get the prescriptions and medications you need, along with the care and attention you deserve.
Our pharmacy is dedicated to the wellbeing of your family and the wellbeing of the community. That's why we offer services such as, multi-dose packaging, medication synchronization, important health screenings, and expert care*. We strive to make it convenient for you and the people you care about to live a healthy life. Think of us as your community healthcare destination.
*At participating Medicine Shoppe Pharmacy locations
Amy
Amy is the owner and head pharmacist. She worked her way to the top, but started stocking shelves for the previous owners.
Danton
Danton is the other owner and mainly carries Amy's bags!
Christine
Christine has worked for over 30 years at this location.
Mrs. J
Mrs. J has worked for over 35 years at this location and trains all new associates.
Lisa
Lisa is the Lead Pharmacy Technician and speaks French creole.
Sandra
Sandra is a Pharmacy Technician who speaks Spanish.
Shenell
Shenell is a licensed Pharmacy Technician with a ton of experience.
Sydney
Sydney is a Pharmacy Technician and she is starting pharmacy school this year.
Denesha
Denesha is a Pharmacy Technician and full-time student in nursing school.
Shyann
Shyann is a great sales associate with a passion for make-up and cosmetology.
Lenroy
Lenroy is a great sales associate who wears many caps.
Monica
Monica is a great sales associate who shines in the book/magazine sections.
Kaleb
Kaleb is our brilliant pre-med college student & IT guru.